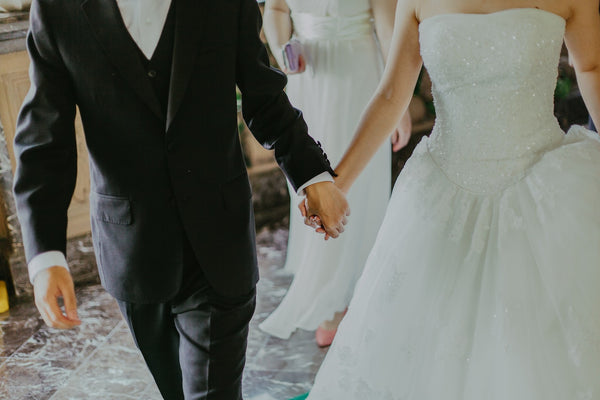 Have a DIY Perfume Bar at your Bridal Shower
You found the love of your life. You're engaged, and the Big Day approaches. 
First of all, congratulations! 
Second, have you planned the events leading up to the wedding yet? A perfume bar is a creative and fun way to celebrate your pending nuptials.
Imagine how wonderful it would be to have your wedding party wearing custom scents they made just for your special day! 
A perfume bar can be integrated into your wedding in one of three ways:
The Shower 
Traditionally, this is a party in which women gather to "shower" the bride with gifts, and has been called a "bridal shower." However, the term "wedding shower" is becoming more common as increasingly these events are open to all genders and focus on the engaged couple instead of only the bride. 
One thing that has not changed, however, is etiquette regarding offering guest gifts or party favors.
And what better way to thank your guests than with an elegant perfume bar?
By giving them the experience of creating their own perfume, you provide them with a lasting memory of your event that they can enjoy for months to come. 
The Bach Party
Whether you're doing a traditional bachelorette and bachelor party, or mixing it up, these events differ from the shower in a few ways.
Whereas showers are often more formal, daytime events, bach parties tend to be nights out on the town. Bach parties are a time for brides, grooms, and other engaged parties to mark their last night being single. 
Looking for something tamer than a night at the bars and strip clubs? How about hosting a perfume party with your nearest and dearest? Set out a nice charcuterie, make up some fancy bach party drinks, and spend some time together creating your own custom wedding day fragrance. 
The Wedding Reception 
Sure, it's standard to have a bar at the reception. Just don't get us started on the etiquette of open vs cash bars! But maybe you're looking for another sort of bar experience for your reception.
Consider a perfume bar - it's a fun way to let guests make their own wedding favors. And if you're in the Louisville Kentucky area, you can have a Vetiver associate come host the bar for you. 
Choosing a Perfume Bar
So you've decided to have a perfume bar at your bridal shower, wedding shower, bach party, or wedding reception.
Now what?
First you need to choose between alcohol or oil as your base. If you're unsure about the differences between alcohol and oil-based perfumes, read our article on carrying your perfume.
Choosing a fragrance base is about more than thinking about the differences in how the scent will cling to your skin or fill the air around you (although these are important considerations!). It is also about which container you would like to have your bridal party take home.
An alcohol-based fragrance bar comes with purse atomizers - lovely little spray bottles that look similar to lipstick cases. 
An oil-based fragrance bar, on the other hand, comes with roll-on bottles.
Finally, simply choose the size of perfume bar that you need. The bars are listed according to the number of people you are expecting and include everything you need to make perfume for that many people.
Add on individual scents if you would like to add a greater variety.
Be sure to order your bar with plenty of time before your big event, that way you can familiarize yourself with the contents and take some time to put together your plan for how to organize the perfume bar.
Consider things like guest flow, spacing, table space, and airflow. 

Tips for Setting Up Your Perfume Bar
Cover your surface with a plastic tablecloth. It makes for easy cleanup and protects the table.

Organize the oils so they are grouped by note.

Place the scent strips in a nice wine glass, so they are easily accessible and noticeable.

Encourage guests to use the scent strips to test combinations.

Have a place ready for guests to discard used scent strips.

Be sure to have pens handy for guests to use to label their scent strips and fill out their formula cards.

Put out ground coffee to help guests cleanse their palate between sniffs.

Keep food in a separate room.

Dedicate one dropper for each fragrance.

Use isopropyl alcohol or wipes to clean up easily.

Have fun!
Are you in the Louisville, Kentucky area?
Vetiver Aromatics offers perfume bartending for your bridal shower…or any event! Click here to find out more.