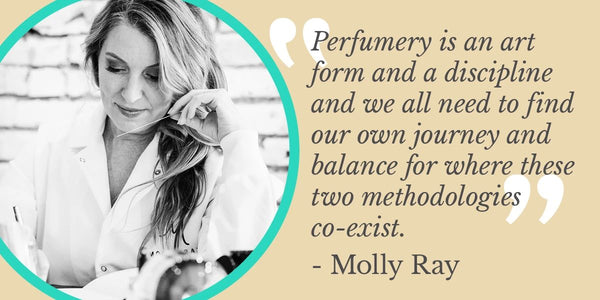 Perfumers Highlight: An Interview with Molly Ray
Here's a treat for all you perfume lovers, especially our aspiring designers! We recently had the pleasure of interviewing perfume designer, Molly Ray of Molly Ray Parfums.
For Molly, perfumery is an art and a passion, unlocking the possibilities of the core human connection to fragrance and olfactory exploration.
Get to know more about Molly and hear why she's a fan of Vetiver Aromatics.
What are a few things you would like the readers to know about you?
I'm an independent perfumer based in Seattle, WA who has been developing and growing my fragrance company since 2016.  
I focus on 'Thoughtful Perfumery' which includes considerations for environmental impact, donating and supporting my community, and finding the ideal fragrance match for my clients.  
I currently have a collection of 12 fine fragrances and I also do bespoke (custom) work for individual clients, businesses, and brands.
I host fragrance design workshops in my studio and boutique store where I provide an overview of perfumery formulation as well as a look at the history and trends of the industry.
When were you first introduced to making perfume? What inspired you to begin professionally pursuing perfumery?
I first started experimenting with perfume-making about 8 years ago.  I bought a kit of basic fragrance oils and a study guide and started playing with different notes, testing them, writing down my thoughts and feelings on how they worked together (or didn't).
I spent many hours on my couch with my oils and notebook and pen back in those days! I remember I made a fragrance for my son for his Senior prom called, 'Tuxedo'. I was looking for any opportunity or occasion or experience for which I could capture a fragrance.
I looked into getting some formal training and found an institute in Grasse, France that was well regarded (Grasse Institute of Perfumery).  I ended up taking courses with them in Natural Fragrances as well as a study of Taste and Smell and how they are intrinsically linked. 
This put me on a path to take the information and input from Master Perfumers in France and then return home to the US to develop my own style for my designs.
I recently studied at another Institute in France, this time in Versailles (outside of Paris) at ISIPCA (Institut supérieur international du parfum). I'm always learning and growing and I hope to always be doing so.  It keeps me inspired, in touch, and in love with my art form. 
What was the hardest part of pursuing a career in perfumery for you? 
Training is expensive and I had to space out my training over many years. My lifestyle as a single mother didn't allow me to take a year or more off to train as some are able to do.
I also think perfumery is still coming into its own as an art form.  I think of it in some ways like photography.
Modern photography was not thought of as art until relatively recently, even though both of these art forms had a cultural explosion in the 1930s. I am hoping that perfumery is on a similar path.
What's your favorite part about designing perfumes?
The unlimited possibilities. There will always be another feeling to express through a fragrance design.
As many experiences as you can have in life, there is a fragrance that can be designed for each of those. 
There is such an exciting yet comforting sense of vastness to the world of perfumery as a designer.
What are your go-to Vetiver Aromatics products? What keeps you coming back again and again?
I have been ordering through Vetiver Aromatics since I opened my business in 2016. I love your florals such as rose and jasmine. Also, your selection of musks is fantastic. I'm a huge fan of white musk and Egyptian musk.
And don't get me started on the top notes I order, like lemon and bergamot. They brighten my designs and help them to sparkle! 
What's your favorite perfume design you've created? Where can we find it?
My go-to favorite is 'Versailles', the first design I ever created for my collection in 2016. I have made small revisions to it over the years but the basic inspiration from the Chateau of Versailles is still solidly there for me.
I can wear this all year and it's elegant, delicate and welcoming.  It makes you smile. I sell all of my collection of 12 fragrances online at www.mollyrayparfums.com and they can also be found in boutiques, museums, and airports.
Where do you draw inspiration for new fragrances? 
Anywhere and everywhere. Inspiration comes to me like breathing. Like the way I love my son. It just is there for me naturally. I can see a pair of shoes, a painting, a couple embracing, a piece of furniture and I'm thinking of how to capture that in a fragrance.
Do you have any advice for someone starting their perfume-making journey?
Know your materials. Take your time to smell and test them. Make your own notes about how they feel to you. I still refer to my earlier notebooks when I am working on a fragrance accord.  
Also, if you are an independent perfumer, don't let anyone tell you that you need a certain type of training in order to consider yourself ready to explore this world.
Some of the best artists throughout history didn't go to the 'right' school or have the access to the most well-connected mentors.
Perfumery is an art form and a discipline and we all need to find our own journey and balance for where these two methodologies co-exist.  
Most of all, play, experiment, make mistakes and make your own rules based on what works for you. Don't be afraid to make it your own!