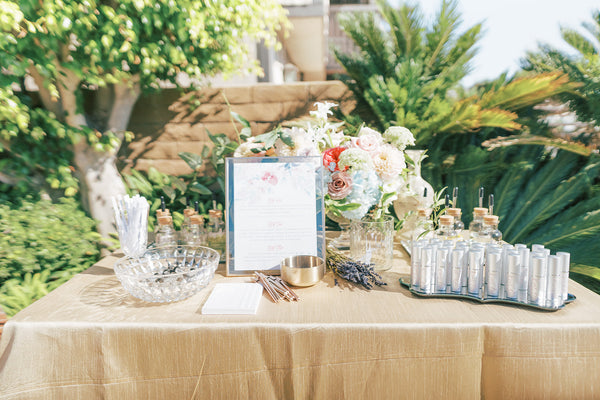 How To Host Your Very Own Perfume Party
Whether it's your best friend's bridal shower or the last summer get-together, a perfume party is a perfect way to mark the occasion.
Perfume bars are a memorable activity for any celebration with between 10 to 50 guests. The more guests you invite, the more fragrance notes your bar receives. 
Let's get this perfume party started! 
When you receive your perfume bar 
Be sure to inspect the contents of your package immediately. This will give you an opportunity to familiarize yourself with the bar before the big event. But also, as hard as we try, accidents can happen during shipping. It's best not to find out a bottle broke on the day of the party. 
If you do find that something is broken or leaking, please contact us at hello@vetiveraromatics.com as soon as possible so we can send a replacement.
Finding the perfect spot to set up your perfume bar
If you're indoors, find a well-ventilated area when mixing your fragrances. If everything starts to smell the same, it's time to take a break.
Also, please be cautious if hosting your event outdoors, as it is recommended to keep your fragrances out of direct sunlight. 
Wherever you choose, it is best to cover your work area with a plastic tablecloth or work on a surface that is easy to clean and hard to stain. Isopropyl alcohol wipes are great for cleaning up any accidental spills.
Setting up your perfume bar
Before your guests start trickling in, arrange your bar. 
We recommend setting up three separate stations: one for top notes, one for heart notes, and one for base notes. This allows room for guests to gather without crowding one another. 
You might also consider organizing your perfumes on a decorative tray with raised edges, so that if a spill occurs, it can be easily contained. Plates like these can be purchased at your local craft or party store.
Next, place droppers inside each fragrance bottle. Be sure to tell guests that they should not mix up the droppers. This would cross-contaminate the scents. 
Display the scent strips in a nice wine glass or some place they are easily noticeable and accessible. You will also need pencils for your guests so they can record their perfume recipes.
You can also create individual place settings for each guest, complete with their fragrance card, some scent strips, and a pencil. 
If you have space for it, set up a separate table to display the perfume bottles for each guest. Having gift bags available for them to take home their bottle and formula card is also a nice touch.
Additional Tips for Assembling Your Perfume Bar
Setting out a glass of coffee grounds or beans to sniff is highly suggested to clear your nose of lingering fragrance.
If you have a large group of guests, try splitting them up by allowing only a portion to work on perfume creation while the others complete another activity. Depending on how many people you have attending the event, this activity can last from 30 minutes to two hours. So plan accordingly and have fun!
Lastly, discourage your guests from snacking while mixing perfume, and if possible schedule fragrance blending after your guests have eaten. Our oils smell wonderful but do not taste that way. 
Need Help Setting Up Your Perfume Bar?
Setting up a bar is simple, but it's understandable that a new activity can be intimidating to do without a little guidance.  
Aside from reviewing the instructional booklet provided in each of our bars and kits, you can subscribe to our Beginner's Guide to Perfumery or refer to videos and seminars on how to set up your perfect perfume bar and excel in perfume making. For those who reside in the Louisville, KY area and want to create an unforgettable experience, book a "bartender" for your event! 
Want to share your custom blend with others? Email it to us at hello@vetiveraromatics.com and we'll share it on our website.