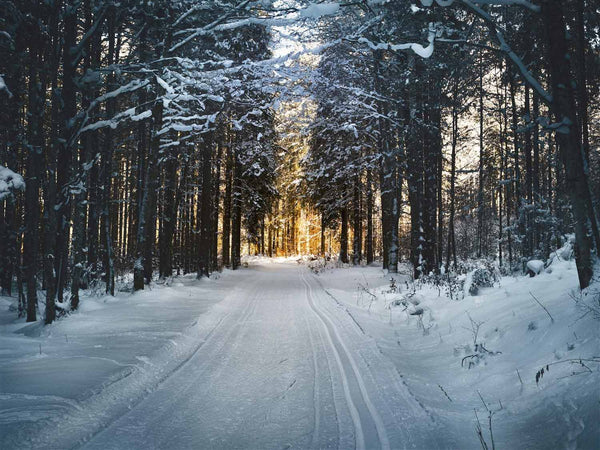 From Cozy to Crisp: Find Your Perfect Winter Fragrance Blend
Warm days still feel a long way off, but let's be honest – the holiday aromas of pumpkin spice and gingerbread are getting tired. It's time to take a fresh spin and experiment with DIY winter fragrances that don't all smell like Christmas.
What Should a Winter Fragrance Smell Like?
Traditionally, winter fragrances are built on spice and other warm notes. Amber, incense, and clove are common elements. When the weather is cold, many people gravitate toward scents that feel deep and cozy.
Some, though, find traditional scents too heavy to wear every day. Perhaps you're a rebellious soul who prefers the invigorating tingle of a frosty morning to the sleepy glow of a fire. If the cold never bothered you anyway, you might be drawn to bright, clean fragrances that capture winter's sparkle, like peppermint, fresh water, and blue spruce.
Whether you go for cozy or cool, if the winter season brings a drop in temperature where you are, make sure you choose the right concentration for your homemade scent.
How Temperature Affects Scent
The way your perfume or cologne smells is influenced by the temperature of your skin and of the air around you. Fragrance molecules move slower in the cold. Plus, your scent receptors retreat from frigid temperatures and bury themselves deeper in your nose, dulling your sense of smell.
What does that mean for your perfume? For one thing, it means you should wear a more concentrated, longer-lasting version of your scent. While eau de toilettes are recommended in summertime, they fade fast when the air turns chilly. Once you start adding layers to your daily outfit, it's time to switch to eau de parfum.
Of course, if you spend most of your time inside, or if you live in a temperate climate with little change between seasons, the effect of temperature on your fragrance is a moot point. The important thing to remember is that the warmer you are, the lighter your scent should be. You want to smell amazing, not overpowering. 
The Seasonal Smells of Winter
You can typically go two ways to create a DIY fragrance reminiscent of the snowy season. On the one hand, you can wrap yourself in scents that remind you of being warm and snug while you watch fluffy flakes fall outside. On the other, you can embrace the chill and opt for bright, crisp fragrances that conjure rosy cheeks and the crunch of boots on fresh snow.
Snuggly Winter Scents to Warm Your Soul
Sweet, spicy scents that remind you of holiday treats keep the holly-jolly spirit going all season long.
If your idea of a perfect winter day involves hot drinks by the fire, deep, smoky notes feel pleasantly cozy.
Sparkling Winter Scents to Awaken Your Senses
Not everyone's favorite winter activities involve cuddling up inside. If fresh snow is the smell you love best, explore cool, brisk fragrances. Woody, earthy aromas anchor the bright scent.
Can You Wear a Summer Fragrance in the Winter?
If you have a signature scent you love, you can wear it no matter the season. Likewise, if the winter doldrums get you down, your summer fragrance can be a wonderful pick-me-up reminding you of warmer days ahead.
To make your summer fragrance work in colder temperatures, try layering a light perfume over a body oil or lotion with a matching or complementary scent. This will help the fragrance last longer and smell stronger despite the cold.
You might find a green, woody fragrance is a pleasant way to straddle the line between the seasons - not as complex as traditional winter scents, but not as flowery as summer. Here's a recipe that might fit the bill.
DIY Dupe: Make Your Own Version of The Hedonist
The Hedonist by Ex Nihilio is a woody, fresh gender-neutral fragrance. Experiment with its base, heart, and top notes to take your own twist on this popular scent.
Base Notes: Vetiver, White Musk, Tonka Bean
Heart Notes: Patchouli, Cedar
Top Notes: Bergamot, Ginger
Embrace the Highlights of the Season
Whether you want to build a snowman or hibernate till spring, there's no getting around winter days. So you may as well have fun and play with the scents of the season. Think about the winter elements you love, then try to conjure those through fragrance.
If you need inspiration, try our Winter Sampler. It will get you started with 12 of our most popular wintry notes.