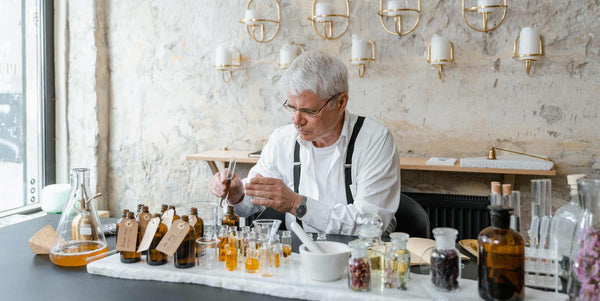 Make an Impression with a One-of-a-Kind Signature Perfume Scent
A signature scent is a classic element of personal style. Nothing else expresses your personality as intimately as the way you smell.
Whether it's a power suit, a floral sundress, or a crisp oxford over a pair of jeans, we all have a certain look that just feels right. Your fragrance builds on the impression your style creates – such as confident, sophisticated, or relaxed.
A signature scent is the perfect way to express yourself no matter what you wear. DIY perfume kits let you create a signature fragrance as unique as you are.
How to Find Your Signature Scent
First of all, be patient. You have a beautifully complex personality. Expect to take some time finding the fragrance notes to express it. Above all, enjoy the journey.
Fragrance is closely tied to memory and emotion.
Think of how you want your signature scent to make you feel and the impression you want to leave.
Do you want to convey brightness and energy? Explore green, fruity, or citrus scents.
Do you prefer a calming Zen-like mood? Try earthy, woody, or foody notes.
When you make your own perfume or cologne, you can combine fragrance families in unexpected ways.
Typically, florals blend well with spicy or citrus notes, minty notes blend well with citrus, herbaceous, and earthy notes, and woody notes go with everything.
Be adventurous, but don't go overboard. Consider making a fragrance a bit like seasoning a meal.
Each spice in your cabinet is amazing, but combining every one in a single dish would be overpowering.
Build your fragrance combinations one note at a time, giving your nose a break between sniffs.
NOTE: Perfume or cologne? Although in marketing these words have become gendered (perfume for women and cologne for men), the reality is that they refer to the strength of the fragrance and the dominant notes.
Perfume is stronger than cologne and more likely to rely on floral or fruity notes, whereas colognes tend to be more woody and earthy. 
Craft Your Signature Scent from the Top Down
The top note is the first impression your signature scent creates. As the top note wears off, the heart and base notes shine through.
In personality terms, your top note is how you show up. Your heart and base notes are the layers of personality people discover as they get to know you better.
When experimenting with your DIY perfume kit, start with the top note – what first impression do you want to make?
For example:
Serene - Green Tea

Crisp - Fresh Water

Classy - Violet
Next, move on to the heart note:
Determined - Smoke

Romantic - Rose

Earthy - Sage
 And finally, the foundation, or base note:
Masculine - Leather

Spiritual - Amber

Generous - Chocolate
Making Your Own Signature Scent
Write down the moods and emotions you want your signature scent to create.
Then, start sniffing!
Test each note on a fragrance strip. Be sure to label the strips so you can later remember what is what.
See how the scents work together by fanning the strips under your nose, adding and removing strips to fine-tune the combination. Keep taking notes about how certain scents and scent combinations make you feel.
When you find the right top note or combination of top notes, start looking for your heart note. When you're happy with those two layers, look for a base note to anchor your fragrance.
When the combination evokes the right mood, it's time to make your own perfume or cologne. 
Make a small bottle of fragrance at first. You don't want to make a big bottle only to find later you no longer love it.
Fragrance reacts with skin chemistry, so it won't smell exactly the same on your skin as it did on the strips. It will also evolve through the day. You want to make sure you love your signature scent as much at twilight as you did at dawn.
(First-time scent makers will find helpful hints and how-tos in our free Beginner's Guide to Perfumery. Download your copy to learn all you need to get started.)
Making Your Signature Scent with a DIY Perfume Kit
Start with your base note, adding a few drops at a time and keeping track of the number of drops. Your formula should be about 20% base notes, 30-50% heart notes, and 30-50% top notes.
Once you have the fragrance blend right, dilute it to around 50%.
You will dilute your final perfume or cologne with a carrier agent such as alcohol or oil.
When the recipe is still in development, you may want to use an inexpensive option like fractionated coconut oil, jojoba oil, or pure ethyl alcohol. That way, if you don't like the finished product, you can throw it out without wasting your carrier supply.
Pour your fragrance into a small, dark bottle, cap it, and shake it vigorously. Then store it in a cool, dark place to mature for 1 to 6 weeks. Don't rush the waiting period – the fragrance notes need that time to relax and get cozy with one another.
A signature scent, by definition, is your go-to perfume or cologne. To avoid running out, start mixing your next batch when you're about halfway through your bottle. That will give it time to mature before you need it.
Making a Fragrance That Is Unmistakably You
Like a red lip, a bow tie, or a string of pearls, a signature scent is a hallmark of personal style. DIY perfume kits take personalization even further – creating a fragrance as unique as you.
Need a little inspiration? Start with the fragrance profile for a classic perfume or cologne, then adjust it to make it your own.
Classic Fragrance Profiles
CHANEL NO. 5
For more than 100 years, Chanel No. 5 has been a signature scent of style icons, including Kate Moss and Marilyn Monroe.
Top Notes: Aldehydes, Ylang-Ylang, Neroli, Bergamot, Lemon
Heart Notes: Iris, Jasmine, Rose, Orris Root, Lily-of-the-Valley
Base Notes: Musk, Sandalwood, Amber, Moss, Vetiver, Vanilla, Patchouli
SANTAL 33 by LE LABO
This clean, gender-neutral fragrance is a favorite of London cool-girl Alexa Chung and Hollywood megastar Ryan Reynolds.
Top Notes: Papyrus, Violet, Iris
Heart Notes: Cedarwood, Cardamom
Base Notes: Sandalwood, Leather, Amber
EROLFA by CREED
This crisp, masculine fragrance is the signature scent of soccer-player-turned-style-icon David Beckham.
Top Note: Bergamot, Lime, Melon, Grass, Lemon, Violet, Caraway
Heart Notes: Herbaceous, Pine, Ginger, Jasmine, Pepper, Cyclamen, Nutmeg
Base Notes: Amber, Musk, Sandalwood, Oakmoss, Cedarwood