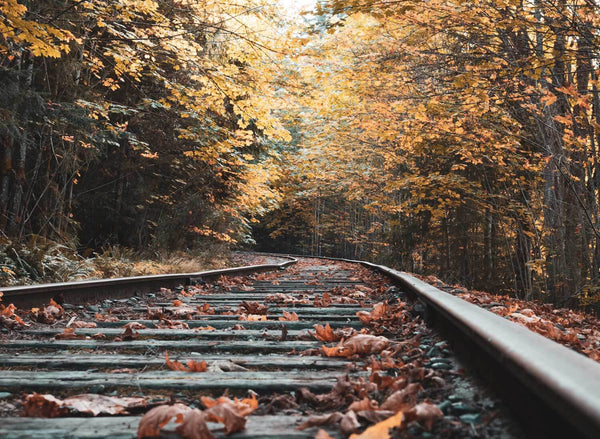 From Pumpkin Spice to Walks in the Woods: How to Wear the Best Fall Fragrances
Scarlet leaves, sweet cider, and cuddly sweaters can mean only one thing: autumn has arrived. As the weather cools, many of us are drawn toward warm, cozy scents.
Those who believe fall fragrance begins and ends with pumpkin spice are missing out. The best fall fragrances can smell as fresh as just-raked leaves, as sharp as bonfire smoke, and as warm as a steamy cup of spiced chai.
The first step in creating your personal fall fragrance is thinking about what fall means to you.
What is the fragrance of fall?
There's just something about autumn that excites fragrance lovers. Many people say fall is their favorite time of year, and happy memories are inextricably linked to smell.
What you consider "the smell of fall" is unique to your experience of the season. Woody smells may conjure fond recollections of bonfires or freshly sharpened pencils on the first day of school.
Foody notes like cinnamon, allspice, or vanilla suggest pumpkin pies and cider doughnuts. Crisp musky notes remind us of a brisk walk on a fall day.
Falling temperatures and humidity levels make autumn odors more distinct, according to researchers.
Scent travels better through hot, humid air. This means in summer, we can often smell everything around us all at once.
As the air cools and becomes drier, individual scents are easier to pick out – the smell of apples, wood, and honey can each be detected in a blend your brain might simply label "orchard."
One fragrance unique to autumn is the smell of plants settling down for the winter.
As fallen leaves begin to decay, they release a distinct, musky odor. In spring and summer, growing plants scent the air with a clean, bright fragrance. In fall, the fragrance deepens and the brightness softens, creating the classic clean-and-cozy smell of a leaf pile.
Classic Fall Fragrance Notes
Each of the scent families that dominate fall fragrances stands well on its own and blends well with other seasonal families.
Whether you're creating a fragrance to wear or one to scent your home, these classic notes will put you in the mood for apple picking and hayrides.
Earthy Fragrance Notes
Some earthy notes provide a warm autumn vibe. Scents like smoke, leather, and tobacco give depth and complexity to fragrances with sweet or spicy top notes.
Other earthy notes have a freshness reminiscent of a crisp autumn morning. Fresh dirt, oakmoss, and vetiver conjure the crunch of leaves beneath your boots as you walk in the woods.
Woody Fragrance Notes
Autumn is a time for gathering around the fire. Woody notes that remind you of nights by the campfire make fall fragrances feel at once fresh and cozy.
Firewood, oud, and sandalwood combine earthy and woody elements. Maple, cedarwood, and piñon resin have a more traditional fresh lumber scent.
Amber is a woody scent with a warm, spicy profile that makes it a popular base for cool-weather fragrances.
Foody and Fruity Fragrance Notes
After the smell of burning leaves, the smells people most associate with fall are often food-related.
While summer scents rely heavily on light, fruity aromas, fall fragrances tend to lean toward warmer, more complex scents like bourbon and coffee.
Sweet foody notes like vanilla and toasted marshmallow lighten your fragrance without diluting its warmth. Some fruity notes – like apple, blackberry, and orange – can also lend sweetness while maintaining the autumn vibe.
Of course, for many people, pumpkin spice is the ultimate fall fragrance. Allspice, cinnamon, and tonka bean bring to mind the spicy-sweet treats that have become a hallmark of the season.
Personalized Fall Perfume Recipes to Try At Home

Since the "smell of fall" is such a personal experience, autumn is the perfect time to experiment with DIY perfume and cologne.
We've assembled our community's 12 favorite fall fragrances into an Autumn Sampler box. Or, you can browse our complete collection for the notes that most vividly say "fall" to you.
As you mix and match scent strips to create fragrance combinations, think about how each note and combination of notes makes you feel.
When you hit on a combination that brings back your favorite fall memory – curled under a blanket with a warm beverage, sitting around a campfire under a canopy of stars, jumping in a leaf pile – you'll know that you've arrived.
Below, we've suggested a few combinations to inspire you. To learn how to combine notes into your own homemade fragrance, download our free Beginner's Guide to Perfumery.
1) Pumpkin Spice Latte Perfume Recipe

Base Notes
Heart Note
Top Note
2) Misty Morning Perfume Recipe
Base Notes
Heart Notes
Top Note
3) Campfire Song Perfume Recipe

Base Note
Heart Notes
Top Note